BluePeak applies the best practices of responsible investment and leads with an ESG-integrated approach.

Within BluePeak govern our environmental and social management system (ESMS), which builds on the IFC's Sustainability Framework to provide insights to inform responsible investment decision-making, reporting and risk mitigation throughout the investment cycle.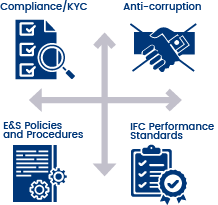 We consciously deploy capital to maximise and analyse the value and impact our work brings to economies, people and the planet.
We welcome the EU regulation on sustainability-related discourses in the financial services sector (SFDR) as a true
catalyst driving the integration of ESG risks into the investment decisions.
BluePeak Private Capital Fund is classified as an Article 8 under SFDR, and we continue to advocate and embed ESG into our mission.

To be recognised as an active partner, practising a rigorous Environmental, Social and Governance (ESG) strategy since inception.
As an advocate for more transparency, BluePeak is compliant with recognised international standards.